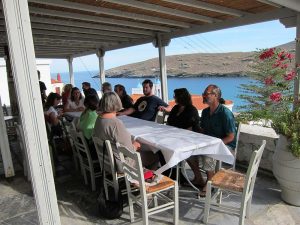 On Sunday 4 November 2012, after our drive from Batsi to Korthi, we continued north to Andros (Chora) for lunch.
After lunch, we explored for an hour or so, which gave me the opportunity to take a few more photos, so I can show you further glimpses of this charming town.
It is planned for me to spend a day soon at the Andros Museum in Chora, where our finds from the Zagora field survey are washed and then sorted and researched by our fineware expert, Dr Stavros Paspalas, and our coarseware expert, Beatrice McLoughlin. I look forward to that, as another stage of this archaeological experience, and also for another opportunity to spend some time in Chora.