by Steve Vasilakis
and Hugh Thomas
On a cold, windy and rainy day (Saturday 17 November 2012), Steve Vasilakis and Hugh Thomas boarded a small Greek fishing boat to try document Zagora from the sea. In the 1980s, Steve worked as a fisherman on similarly sized boats across the Mediterranean and his PhD thesis focuses on ancient seafaring. On the other hand, Hugh studies dead people on pots, sometimes suffers from sea sickness and does not eat seafood. This is their story:
Steve: One of the many questions we have been trying to answer here at the Geometric site of Zagora, is the role of the maritime cultural landscape. In antiquity, Zagora's coastal position would have been ideal for the provision of both local and regional supplies possibly provided by a variety of vessels involved in a network of small scale cabotage (coastal trade).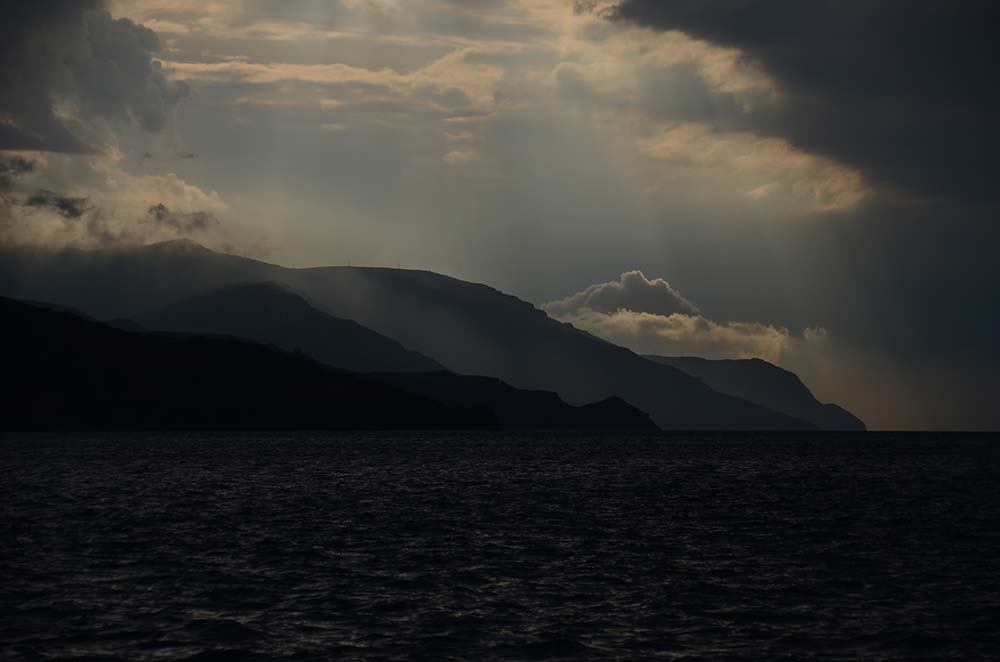 To understand the nature of this type of seafaring practice, it was imperative to first locate possible landing sites (taking into consideration, both sea level and topographic changes), e.g. beaches, promontories, etc., and then illustrate their functionality with the service of a local vessel.
The aim of this task was to simply demonstrate both the effectiveness of Zagora's sea based position and, more importantly, to understand the practice of how an ancient seaman approached this rugged and unrelenting coast.
Having been kindly offered the use of a local 'Trehandiri' vessel, we managed, with great difficulty (strong northerly – Meltemi – winds, and a surging current), to approach two of the three coastal landing sites, while both the northern and southern beaches were unsuccessful due to the strong currents.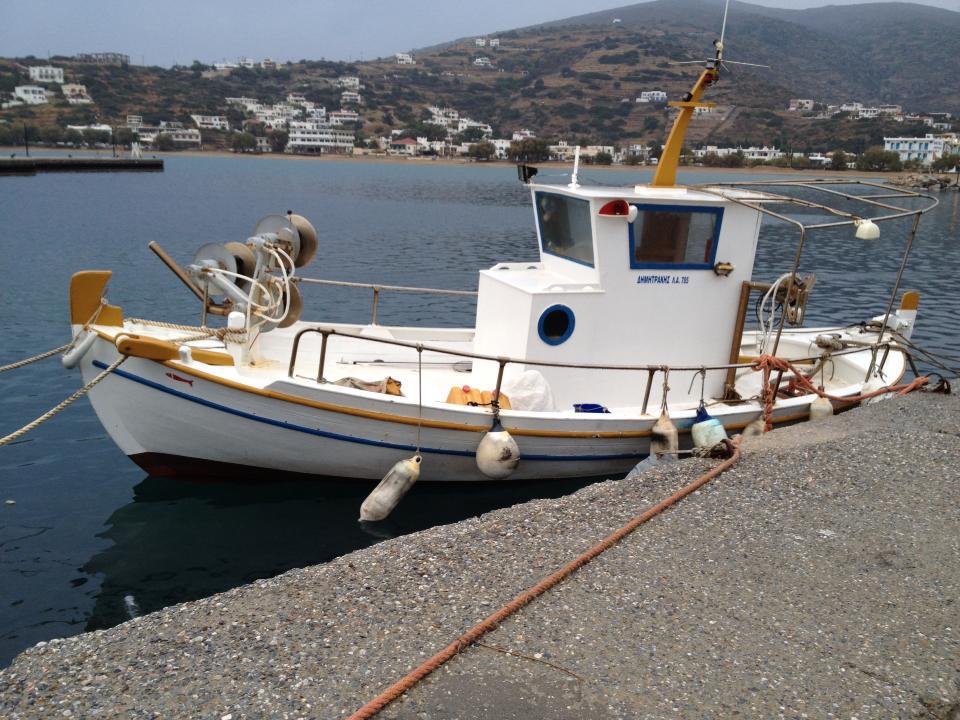 As this was a preliminary survey from a seaman's perspective, I'm already anticipating the many questions (e.g. we struggled to moor even with the advantage of a powered vessel, what would a seaman do approaching the coast under similar conditions in antiquity?) raised in understanding the maritime cultural landscape of Zagora.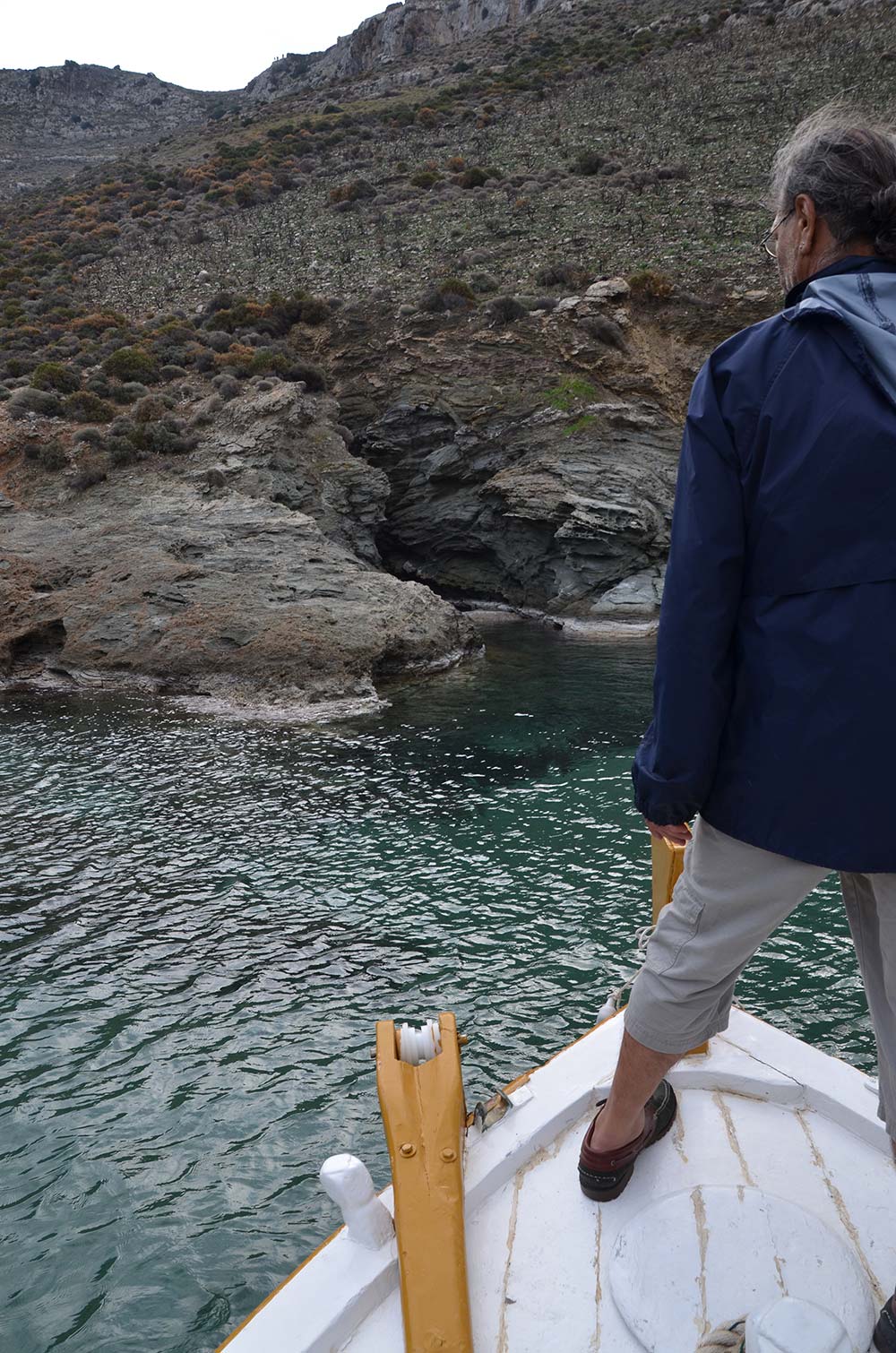 Hugh: In November 2010, I was extremely fortunate to see Zagora from the air, via a helicopter. So when I discovered Steve was hoping to explore the coastline from a small fishing vessel, I stuck my hand up to document the trip. Who wouldn't want to cruise around a Greek island on a warm sunny day?
When I woke in the morning, Andros was covered in dark rain clouds and the wind looked to be picking up. Site work was cancelled due to the weather so as I left our dighouse, the sight of people typing away on computers in a warm room, drinking tea and laughing didn't fill me with happiness.
My plan of wearing my boardshorts and jumping off the boat for a swim was dashed on the rocks… an analogy that I couldn't seem to get out of my mind. Yet, as we rounded the dock and saw our tiny little fishing boat, Steve's face lit up and I knew I was in for an incredible day.
The boat was approximately 7m long by 2m wide and was covered in various fishing implements and a few small, dead fish that were likely used as bait on the last trip. Steve and Thanasi (the fisherman who owned the boat and our guide for the day) expertly untied the boat and we set sail.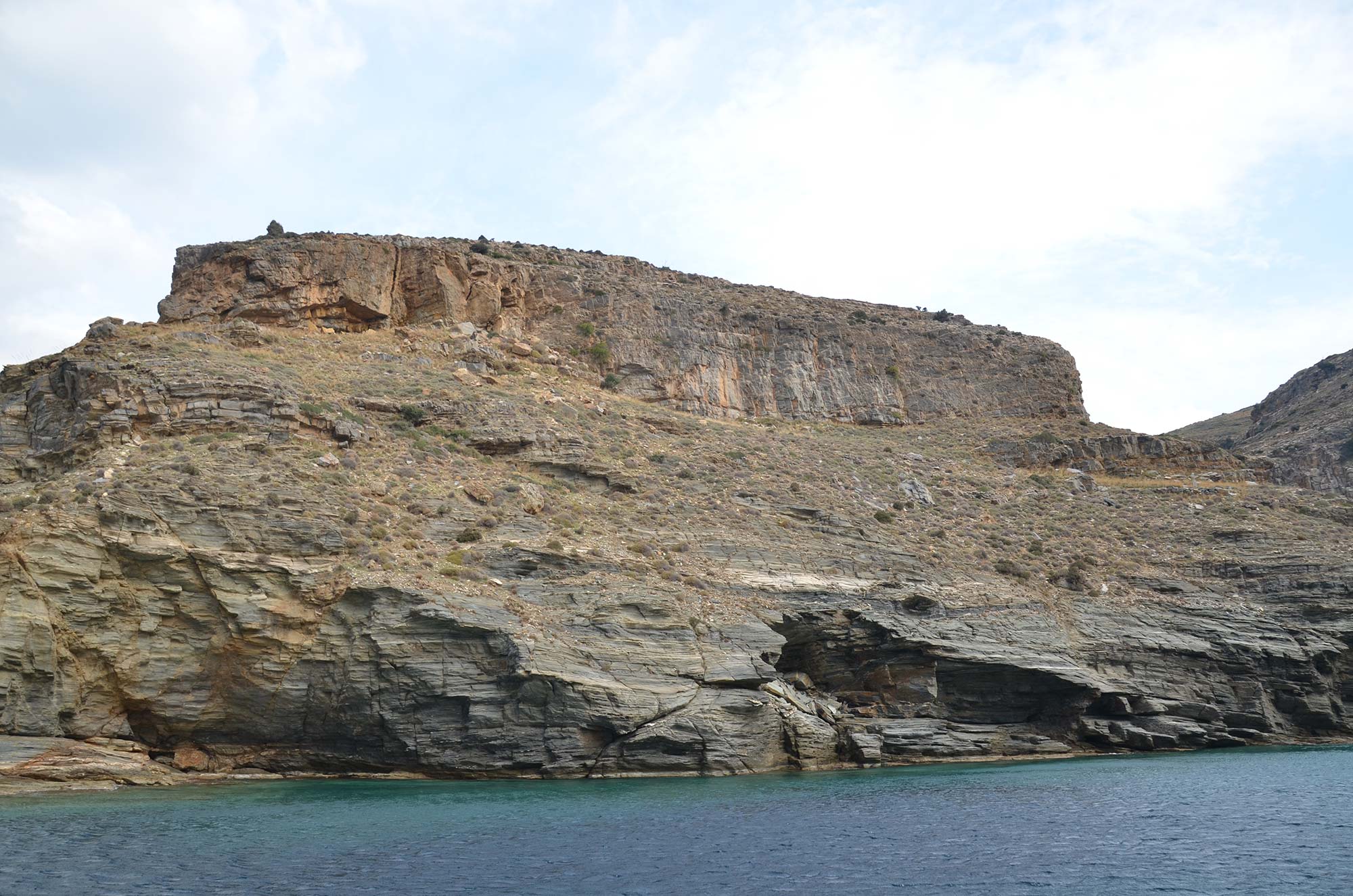 The first shock for me was the way in which the boat was driven. The two fishermen stood on the back of the boat and controlled the rudder via their legs. This allowed them to look over the boat and also to keep an eye out for tell-tale signs of fish. Within five minutes of setting sail, Steve had already thrown out a fishing lure hoping to catch a mackerel for dinner. Both the sailors would frequently stop talking for long periods and would simply stare out to sea, small smiles etched onto their faces.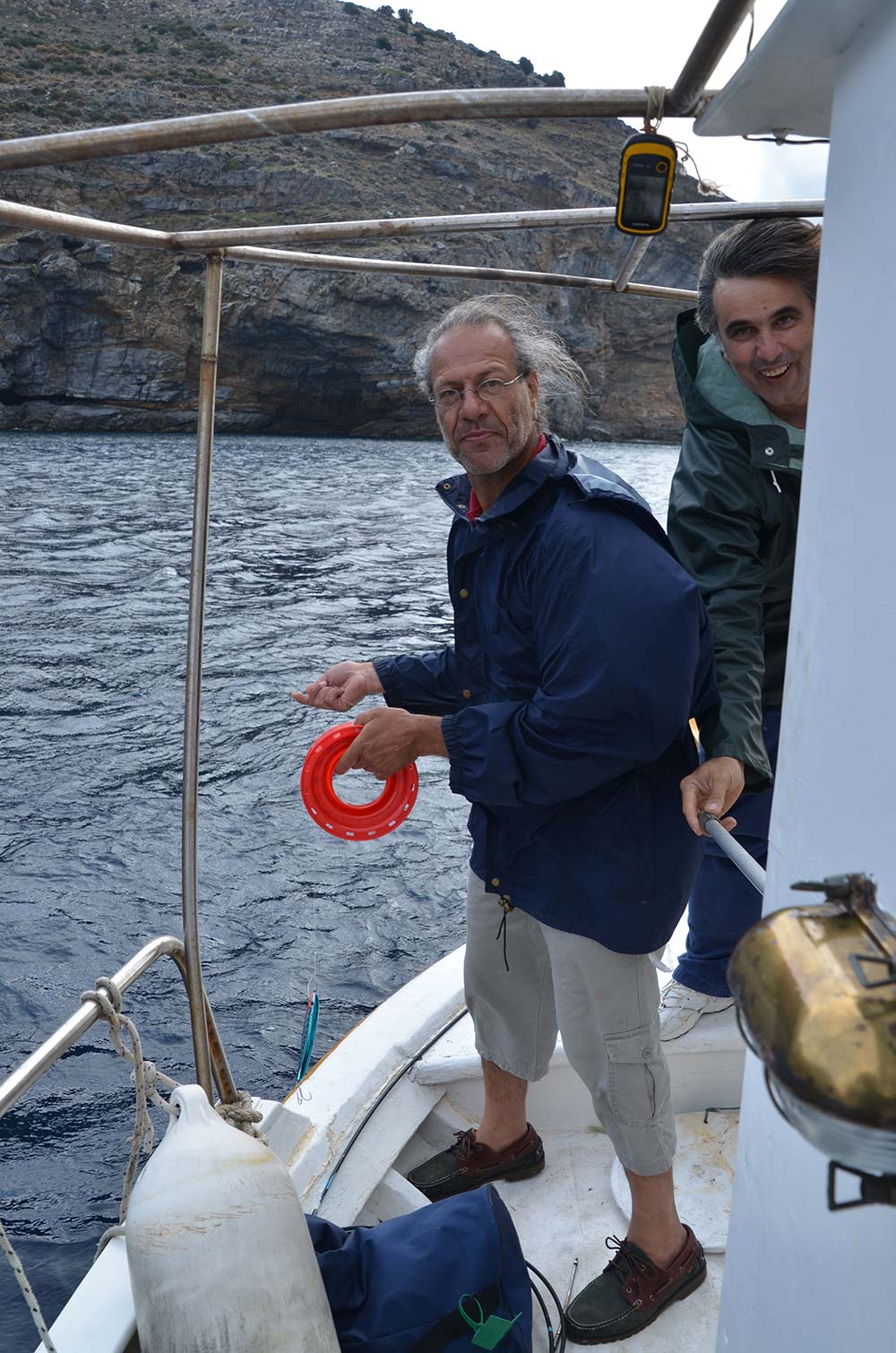 About 45 minutes after we set sail, we rounded a large rocky point and in front of us loomed Zagora, exploding out of the water. The idea was to try a 'mock' landing on several small rock outcrops. As we went into the bay to the north of the site, Thanasi dropped the anchor and piloted the boat, whilst Steve stood on the prow and yelled out directions. The two piloted the boat with such skill that I completely forgot my urge to jump up on the prow with Steve, scream "I'm King of the World" and then sing out Celine Dion. But when I did finally venture up there, I was greeted by an amazing sight. The two had managed to manoeuvre the ship to within 1-2 metres of this flat rock platform. The fishermen had just proven that it was, in fact, relatively easy for a boat to land at Zagora, although one wonders how an ancient ship without a diesel engine would do it.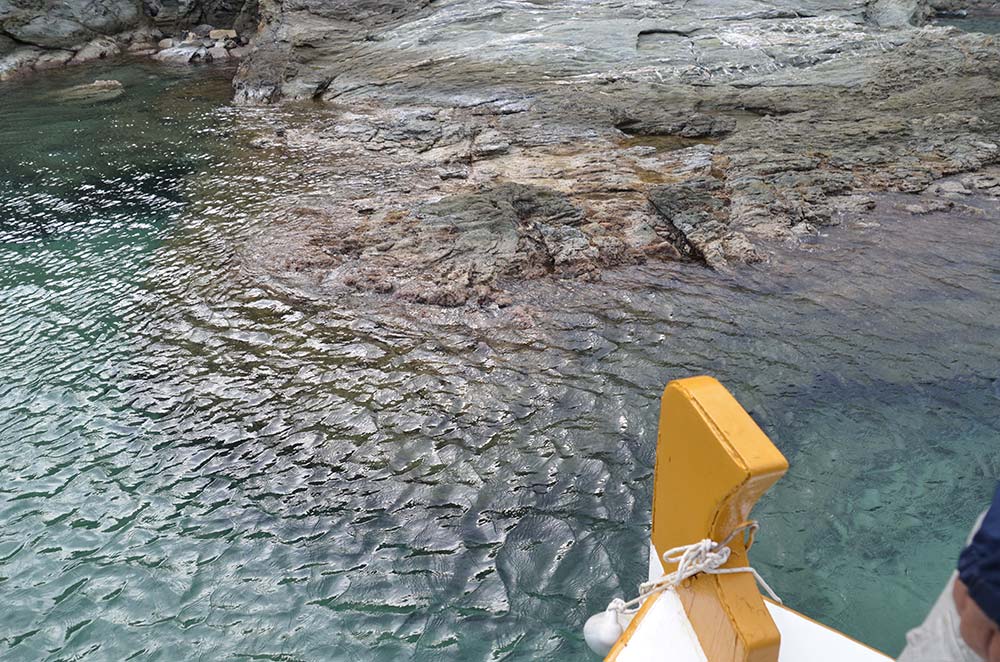 As we skirted around Zagora, the two fishermen chatted in Greek about how rock falls had affected the landscape, the local seal colony and various other sea-based topics while I snapped pictures of cliffs and boulders that only two days before I was scrambling over during our field survey.
We found out that every few years large rock falls from the side of the cliffs would alter the landscape. As such, older landing areas around Zagora that Thanasi and other fishermen had used in the past were now too rocky to land at. This made me extremely happy that we had finished surveying under the cliffs.
On the way home, all three of us sailed in complete silence. Steve told me later that day that Thanasi had told him he was not ignoring us, but that he was still simply amazed by the beauty of the coastline, despite having fished it most of his life. On the other hand, Steve said that personally he was lost in memories of his past. For me, I was simply trying to absorb what will likely be a once in a lifetime experience. I was also quietly thanking my stomach for not reintroducing me to my breakfast.