by Irma Havlicek
Online Producer, Powerhouse Museum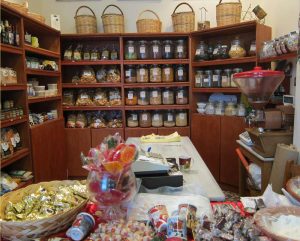 One day, my Andros room-mate at the Kantouni Pensione, Meg Dains, invited me to try some treats she had in a small clear plastic container. I couldn't tell what they were. They were small jubey lumps, dark red in colour.
I put one of the chewy lumps into my mouth and experienced one of the most intense flavour burst sensations I've ever had: fragrant, sweet and delicious!
Strangely, I couldn't identify what I was eating. I think the flavour was simply too intense. Eventually, Meg told me that they were dried strawberries. And of course, once I knew, it seemed perfectly obvious what they were.
On one of my trips to Chora to work at the Archaeological Museum of Andros with Stavros Paspalas (the project's pottery fineware expert) and Beatrice McLoughlin (the project's pottery coarseware expert) who were sorting the finds from Zagora, I saw that Beatrice had a bag of the wonderful dried strawberry delights. She told me that the shop which sold them in Chora was on the main street, just a hundred metres or so up the street from the Museum.
So during my lunch break, I made a pilgrimage to the shop to buy some. The proprietress, Antonia Pertes, explained that there had been a rush on them in the last few weeks, and she wondered why. I explained that the Zagora Archaeology Project was in town, and that word had spread through the team about the dried strawberries…. I bought her last 1.5 kilos – to share on Andros and back home in Australia. (Sorry to those who had to wait until she was able to re-order them.)
Back at the Museum, I thought to myself – I really should do a blog post on that shop. But I wanted to feature the dried strawberries – and and the shop was now out of them because I had bought them all.
So I took back my dried strawberries, and my laptop to show Antonia our website, and asked if I could do a post about her lovely shop. She kindly agreed – including putting my dried strawberries back into the jar, and into a bowl for photographs.
Antonia explained that she named her shop after her favourite-in-the-world sweet treat – spelled in English as 'rodozachari' (pronounced with the 'd' sounding part-way between 'th' and 'd', and the 'ch' pronounced as in 'Bach'). This translates as 'rose sugar' – or, as Antonia described it to me, rose jam or rose marmalade. She said that Greeks usually eat rodozachari by the spoon rather than spreading it on bread or toast as we tend to do with jam or marmalade. Sadly, she was out of stock of it, so I wasn't able to buy any.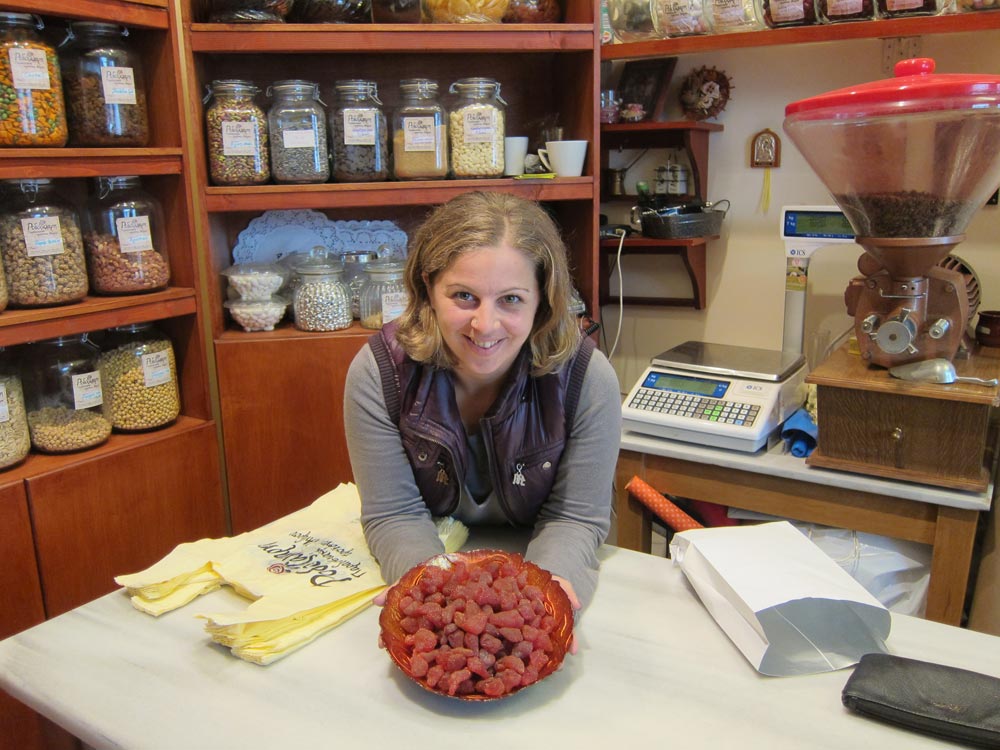 The photographs below give an idea of the cornucopia of delights available from this shop.