by Irma Havlicek, Powerhouse Museum Online Producer
with Steve Vasilakis, Archaeologist and Mariner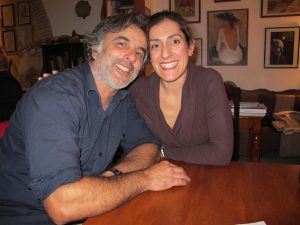 On Saturday nights when we didn't have dinner at the Kantouni restaurant, we tended to head to one of the other Batsi restaurants only a few minutes walk away. One of these dinners was at the Lagoudera restaurant ('lagoudera' means 'steering tiller – the wooden bar found on the head of a boat's rudder), run by Thanassis Schinas and his wife, Angeliki Marinaki.
Early in the 2012 dig season, Steve Vasilakis, one of the archaeologists in the Zagora 2012 team (whose special interest is archaeology from a mariner's perspective) began exploring the small port of Batsi, and befriended some of the fishermen there. One of these was Thanassis, who became a dear friend with Steve over shared interests of fishing, the sea, archaeology, history, adventure, music, poetry and philosophy, not to mention fine food and wine!
Steve and Hugh Thomas, another of the Zagora 2012 archaeologists, went with Thanassis on a voyage on Thanassis' boat to experience what it was like now to approach Zagora from the sea – and to imagine what it may have been like to do so some three thousand years ago with the very different sail- and human-powered boats available then. They wrote a post about that adventure here.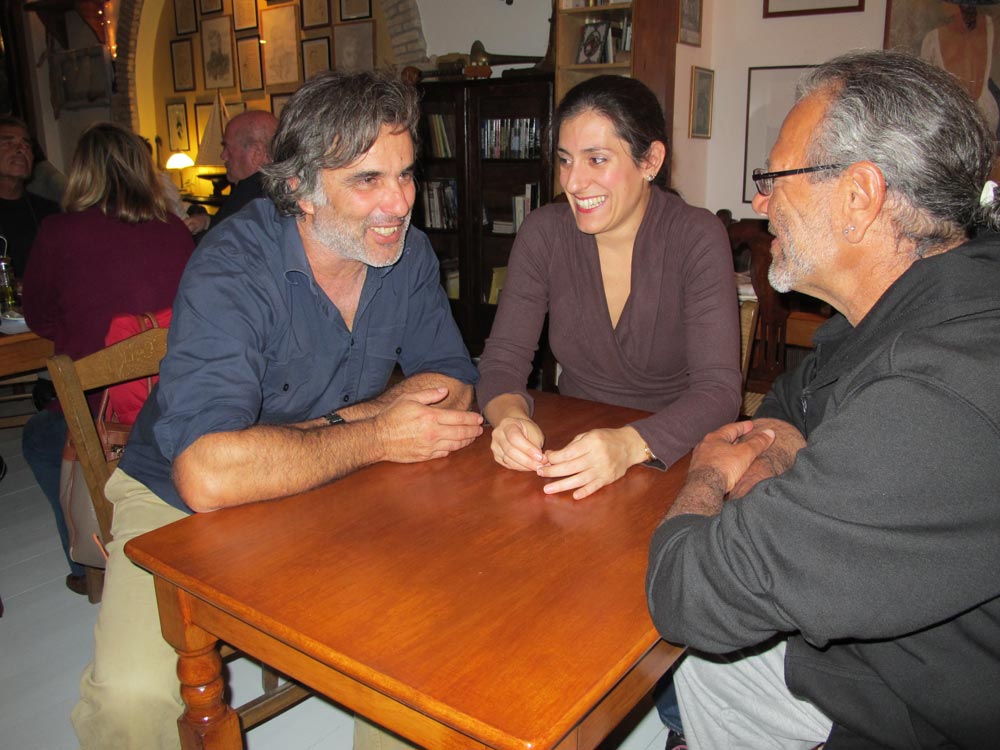 But that's just background to this post about the fabulous dinner we had at their Lagoudera restaurant where fresh seafood is – as you would expect – a specialty. The eclectic decoration of the restaurant includes original paintings, musical instruments and other objects which have meaning to Thanassis and Angeliki – including a piece of the rudder of the Kon-Tiki (the vessel famous for the legendary voyages of Thor Heyerdahl) which Thanassis bought at auction. Kon-Tiki is the name of the fishery Thanassis and Angeliki operate next to the restaurant – which provides the fresh seafood for the restaurant.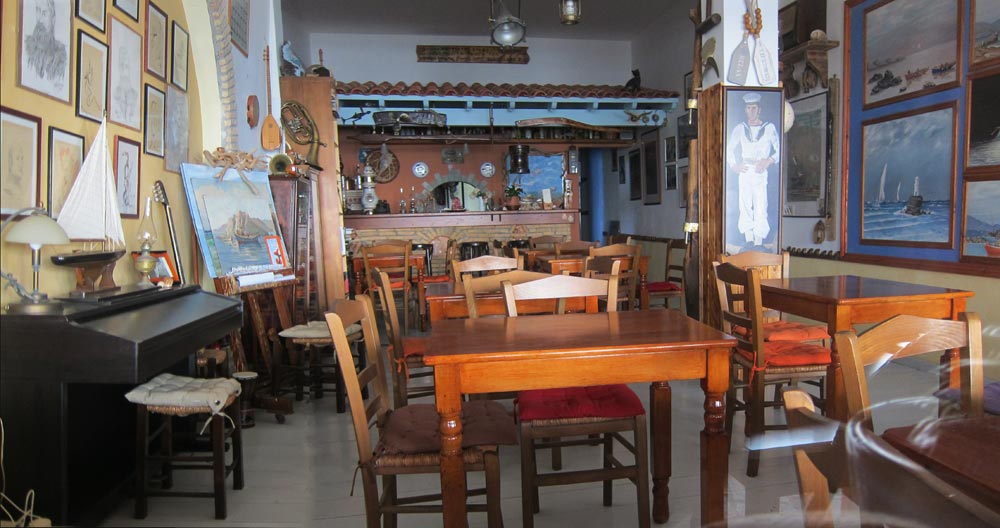 After a hard week in the field, Zagora team members were keen to relax on Saturday night, knowing that we could sleep in the following day before our early wake-ups again on Monday. The delicious dishes included prawn saganaki, skordalia (garlic dip), melizanosalata (eggplant dip), taramosalata (fish roe dip), calamari and lemon, grilled octopus, wild greens, broad-beans, bakaliaro skordalia (batter-fried salt cod fish with garlic dip) and Greek salad.
Thanassis and Angeliki have a deep appreciation of and respect for Mother Nature – both on land and on sea – and try to be as self-sufficient as possible in their own lives and in terms of their restaurant.
They collect or grow many of the ingredients that go into their dishes. They collect wild greens, and herbs such as oregano, thyme, marjoram, etc. which they dry for cooking use. They also grow vegetables for the cooked dishes and salads, and use their own fish catches, so the food is fresh and seasonal, and has a very low environmental impact on the Earth. It is an important part of their philosophy to have a small ecological footprint.  They also produce the fine red and white wine which they serve in the restaurant.
As we relaxed into the Saturday night, fuelled by great food and wine, conversation ranged across topics both serious and light, including what injuries people had sustained, and who had the most gruesome scar to prove it. Some of the photos below are mementos of the Most Gruesome Scar Award. I think Andrew Wilson won….