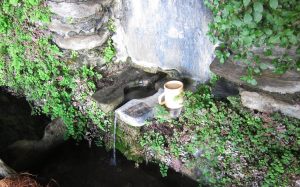 by Irma Havlicek
Web Content Developer
I was walking up the hill from Zagora with Beatrice McLoughlin one day when she mentioned that there was a spring not far off the path, and would I like to see it?
Well, sure I did, so off we went. It says a lot about the people's hospitality here that there is a mug at the spring so that wayfarers can refresh themselves on their travels.
I tasted the water – it really is crystal clear and pure. Delicious.
Here are some photos of the spring.