by Irma Havlicek
Web content producer
Anne Hooton, an internationally pre-eminent archaeological illustrator/artist, worked on the Zagora Archaeological Project (ZAP) for several weeks in each of 2012 and 2013, and is with us for six weeks this year.
Anne has some 30 years experience as an archaeological illustrator, artist and architectural artist, with diverse and extensive experience working at archaeological excavations, artist studios, architectural and graphic design firms.
For the past 20 years, she has lived in Greece, working exclusively as an archaeological illustrator.
Anne has developed an aesthetic signature based on a foundation of visual arts, graphic design and architecture. She has been extensively published and in some instances has helped to create the conventions of drawing standards that are commonly applied within the field.
It is testament to the quality of Anne's work that she has been contracted to work on many of the premier archaeological excavations in Greece, including:
– Ancient Athenian Agora (American School of Classical Studies)
– Delos (Ecole Francaise d'Athens)
– Thebes (American School of Classical Studies)

- Olympia (German Institute of Archaeology)
– Sanctuary to Poseidon, Kalaureia, on the island of Poros, (Swedish Archaeological Institute)
– Ancient Kalydon (Danish Archaeological Institute)
– Torone (Australian Archaeological Institute at Athens)
– Methone (American School of Classical Studies and the Greek Ministry of Culture)
– Ancient Theatre of Sparta (British School at Athens)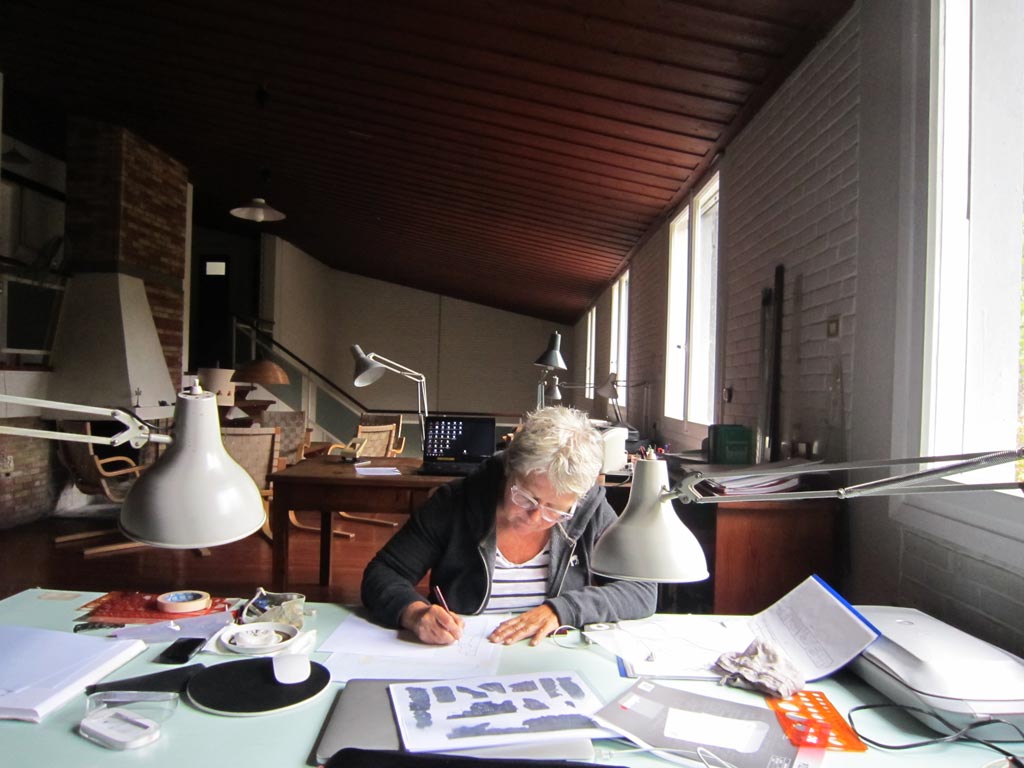 Why drawing rather than photography?
Drawing enables an artist to three-dimensionally reconstruct an object. An experienced archaeological illustrator like Anne can use her artistry and her technical skills to realistically portray, for example, ceramic pieces of a vessel that are missing. Or where the surface is abraded (worn or deteriorated), Anne can fill in the missing applied or incised texture or paintwork.
This enables a pictorial 'conservation of the object, in multiple views. In many cases, scholars find drawing far more useful than photography. However in a presentation, it is best to provide both photography and illustrations to provide the fullest picture of the object as it is and as it probably had been.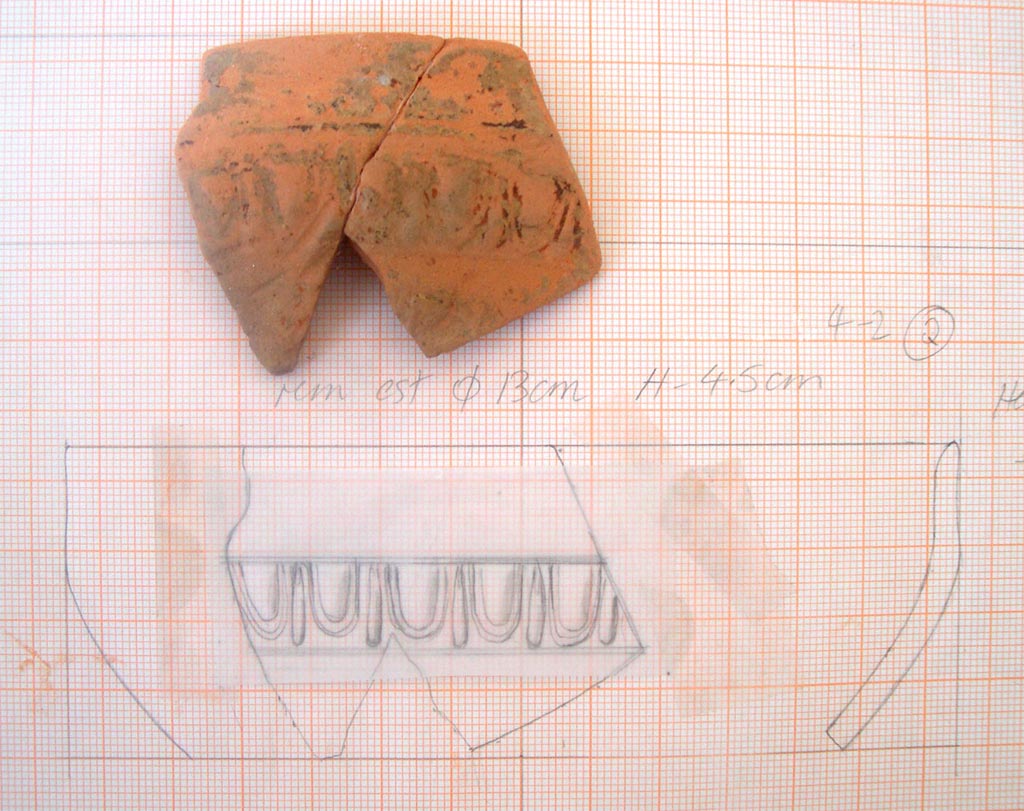 When Anne is drawing something that has been made by a craftperson, she is seeing their work as an artist, through her own eyes as an artist, and aims to faithfully reproduce not only the line of the work but also the spirit of the work.
Photography, drawing, architecture, conservation, archives – all are part of the process to facilitate research. The ultimate aim is for work to be published so that these artefacts and the history and knowledge they carry can be communicated to scholars and others to help enrich our understanding of our past.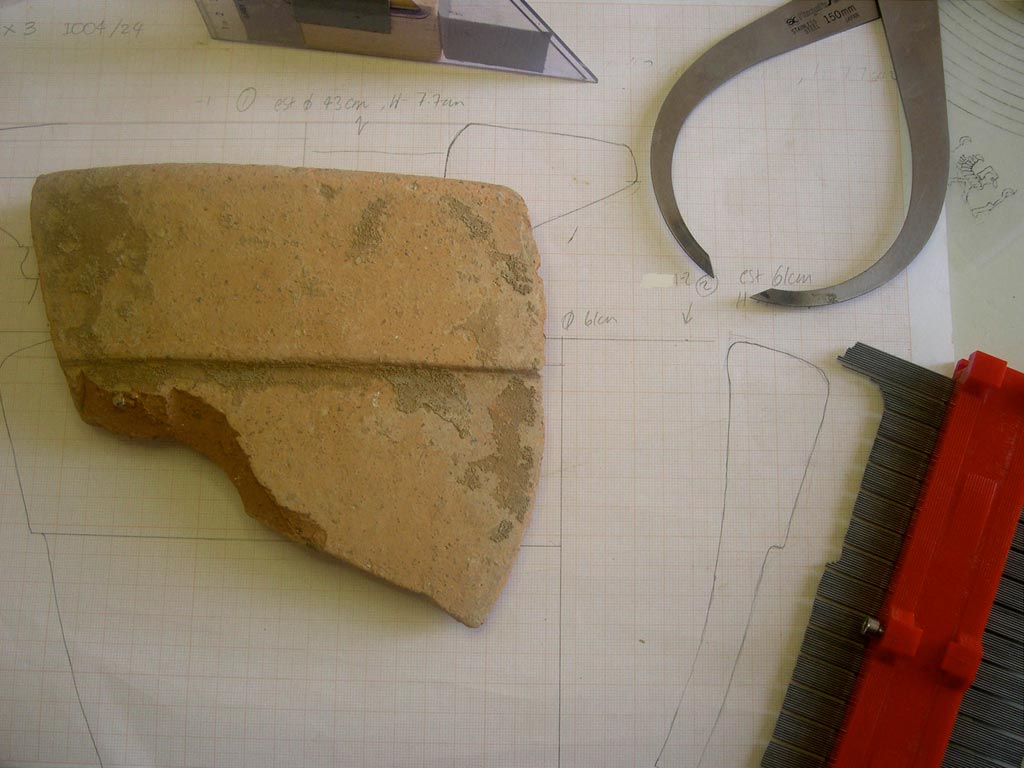 Archaeological artefacts and architecture
Anne's archaeological illustration/artist work is divided into two main categories: reproducing artefacts, and reproducing architecture. Both require a keen, sensitive eye and a steady, practised hand.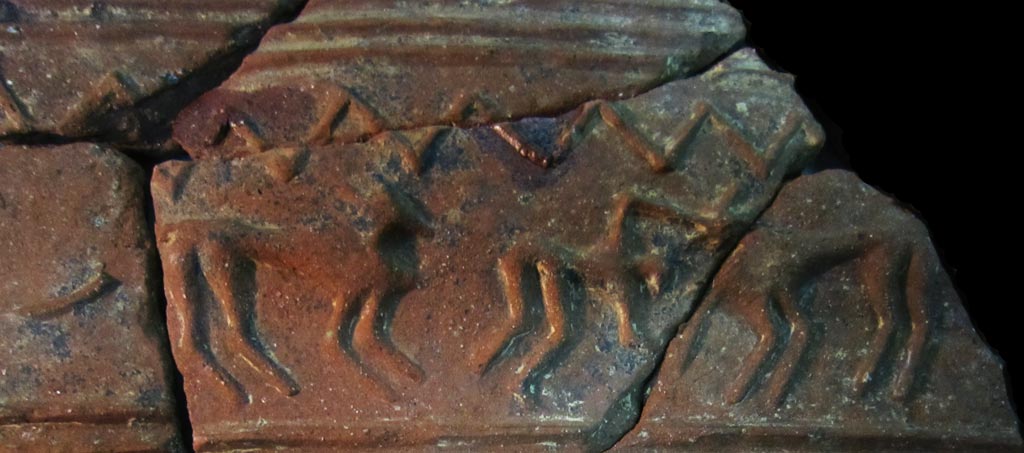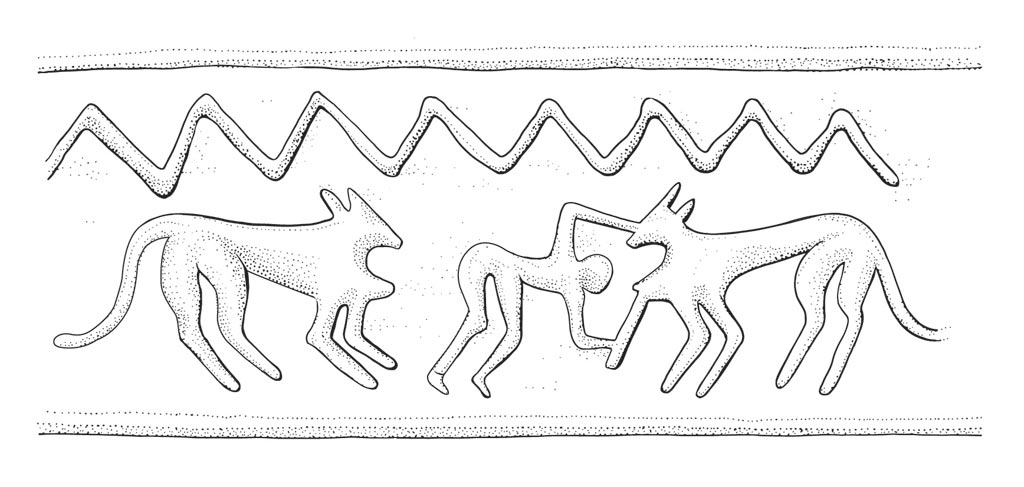 J. J. Coulton drew the architecture for Zagora in the 1960s and 70s; this is what Anne is doing for the project now. It is painstakingly detailed work. Anne measures either plan views (bird's eye view) or elevations (side on) of architectural features (for example, every rock in a wall), assisted with total station survey points, and then detailed planning by hand.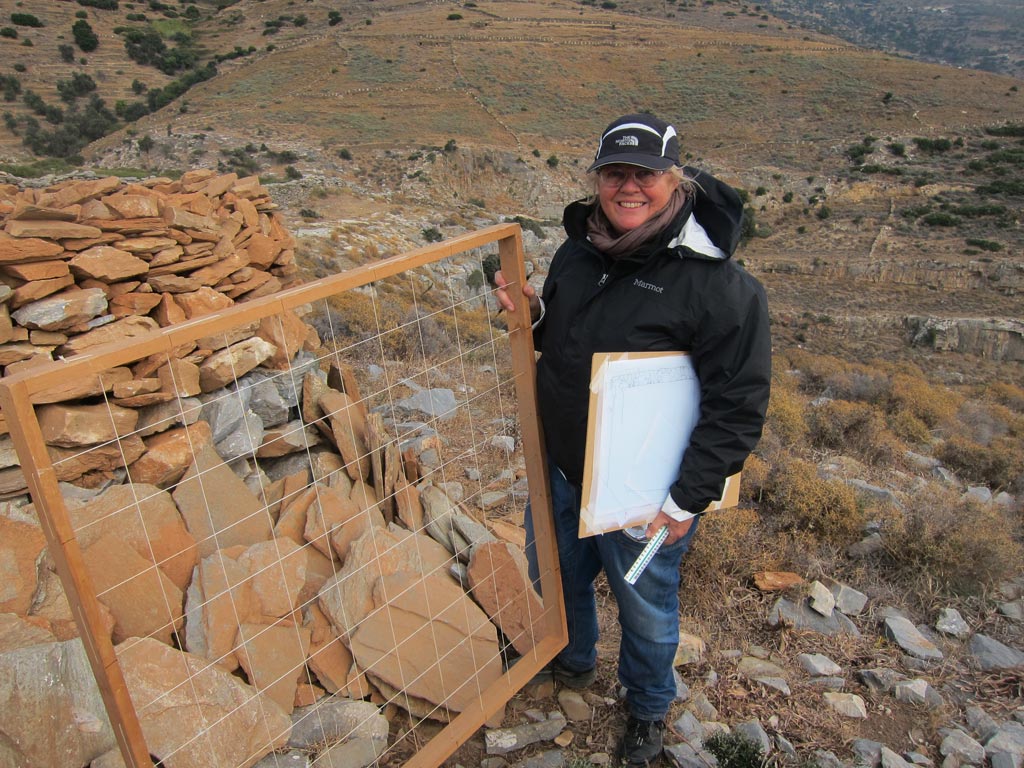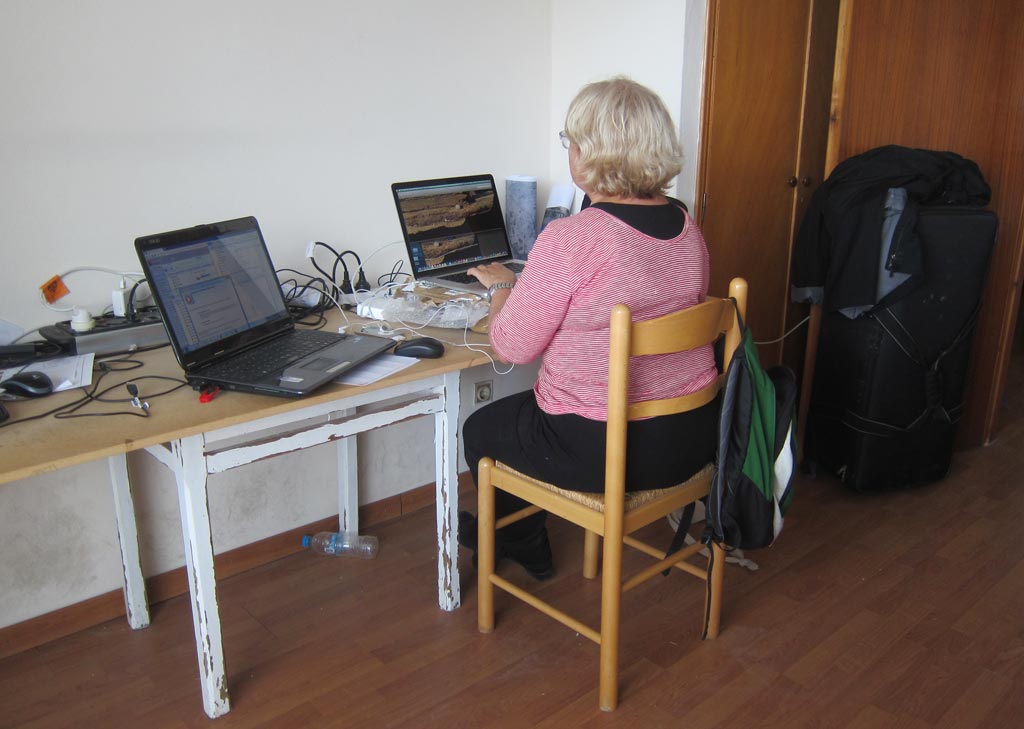 A glimpse into Anne's study and career path
Anne had always been artistically gifted and knew she wanted to pursue a career in art/design/illustration. After leaving school, she completed a Graphic Design Diploma from Randwick College, Sydney.
From there, Anne worked in the Audio Visual Services Unit at Macquarie University. Her Manager, Teong Eng Tan, inspired Anne to follow her dreams. 

In this job, Anne was asked to help Egyptologist, Professor Naguib Kanawati, by stitching together many reels of one-to-one tracings he'd made of long tomb murals which he had brought from El Hawaish in Egypt. Through this work, Anne learned valuable lessons in basic archaeological drawing.
Wanting to develop her artwork, Anne then completed a BA in Visual Arts from the City Art Institute, The University of New South Wales, majoring in drawing.
From there she went to England where she worked as a graphic designer for two years, after which she returned to Australia and began working as an artist in an architectural practice, and began studying Architecture part-time at UTS.
And thus began her work in the 1980s in a variety of leading Australian design and architecture firms with highly talented people, many of whom have gone on to develop illustrious careers internationally.
These were pre-computer days where everything, such as model designs for tender submissions, was done by hand in pencil, colour pencil, Rotring pen and watercolours.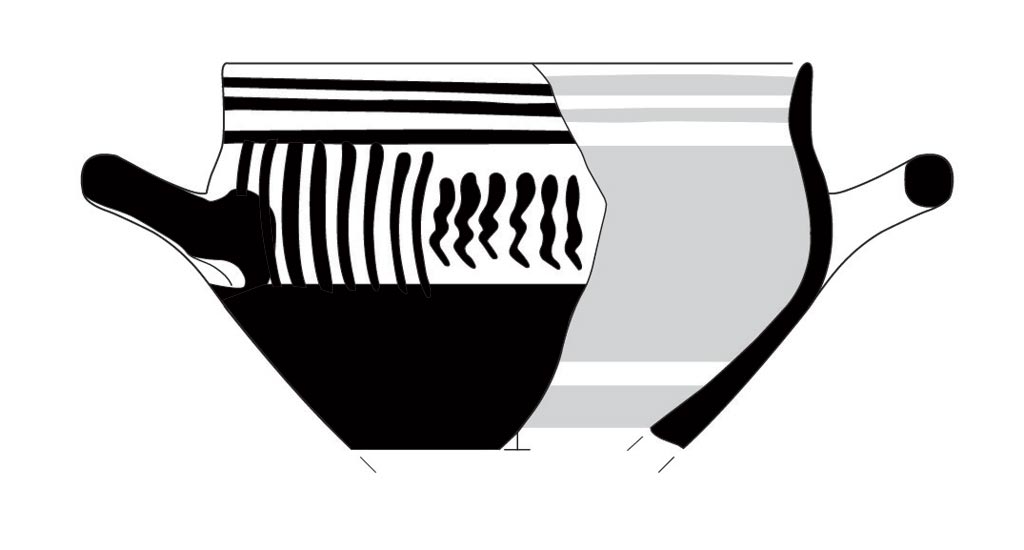 Working with designers and architects
Among the people Anne worked with who influenced her career were:
– Graham Jahn, then a principal of Kringas Jahn Architects, now Director of Planning, Development and Transport at City of Sydney Council. Graham Jahn and his team were an inspirational force for Anne.
– Danny Venlet (post-Daffodil Design with Marc Newson and Tina Englan).
– Ilia Zenghelis and Eleni Gigantes of Gigantes Zenghelis Architects, Athens, whom she describes as "visionary intellects and designers".
Anne developed many skills during her period working in architecture and design firms. She worked with people fired by creative energy, as she was. Some of the work was intense, including many all-night sessions to meet deadlines. It was a time of energy and ideas.
Anne shared a passion for the work and a huge work ethic with these powerhouse designers and architects.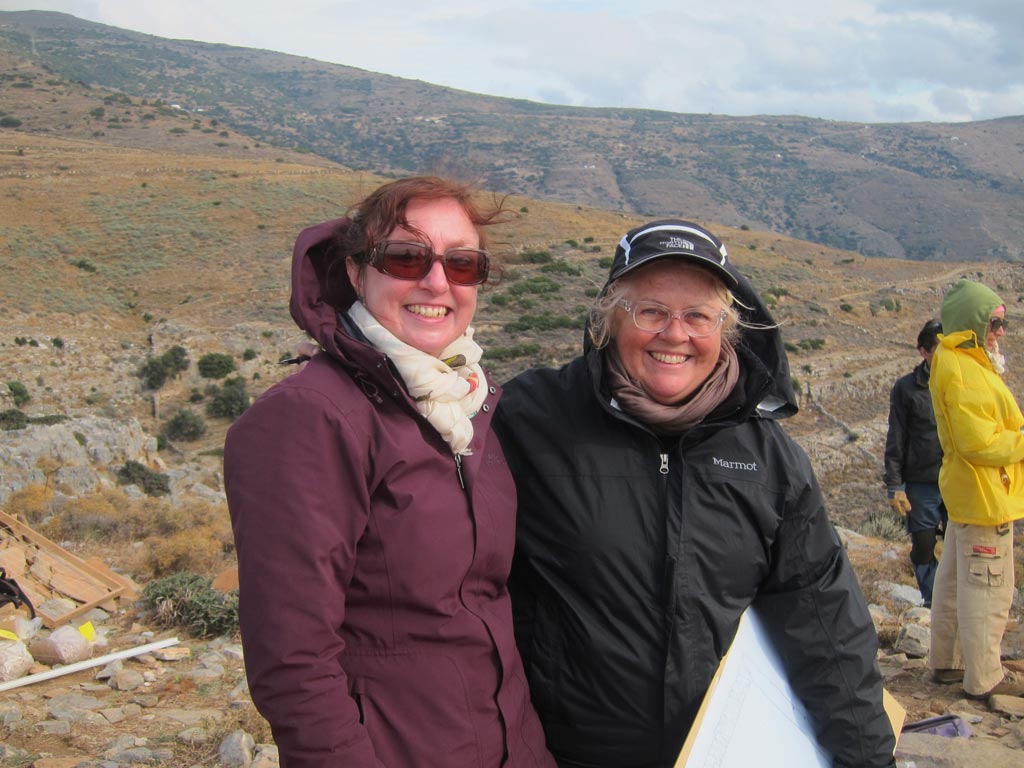 Meanwhile, the continuing lure of archaeology….
In 1986 Anne heard that Professor Alexander Cambitoglou, Professor of Classical Archaeology at the University of Sydney, was calling for people wanting to work on his excavations at Torone in Greece, Anne applied and was accepted. That was almost thirty years ago. And on that dig, Anne met Stavros Paspalas, one of the co-directors of the Zagora Archaeological Project (and also our fine ware expert) and Beatrice McLoughlin, our Finds Manager and coarse ware expert.
From 1986, over a twelve-year period, Anne worked at Torone for nine eight-week seasons.
And eventually, as with her design and architecture work, Anne's artistry, professionalism, work ethic, and enthusiasm for the work, led her to be increasingly appointed as the artist/illustrator on archaeological excavations.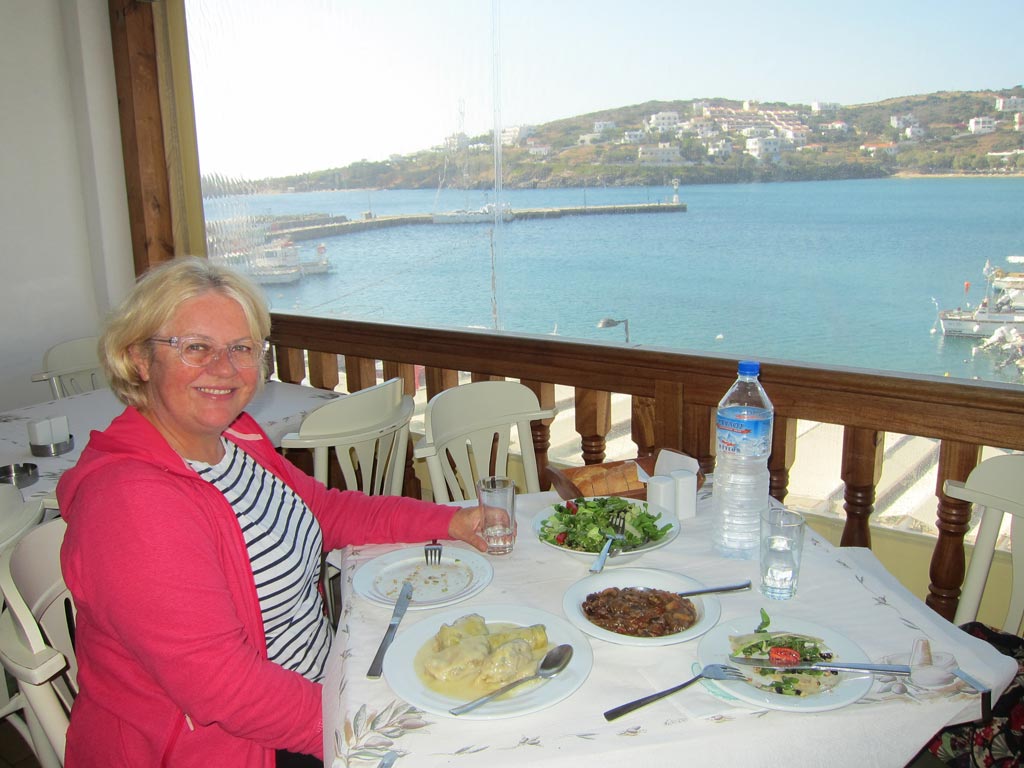 Anne's three As
Anne's life has been guided, challenged and inspired by what she calls her 'three As', or the 'Triple A Syndrome': Art, Architecture and Archaeology.
This combination of passions has guided her life, her personal odyssey. She feels privileged to be conversant in these connected fields, and to be an integral part of exciting archaeological projects with stimulating people around the world.